Pac-Pong is a game plated with paddles, a net and a pair of hoverboards.  Sort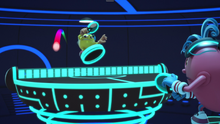 of like table tennis, noticable differences include the round table and how the players move on hover boards instead of their own feet. As seen from "Pac-Pong Fever".
Ad blocker interference detected!
Wikia is a free-to-use site that makes money from advertising. We have a modified experience for viewers using ad blockers

Wikia is not accessible if you've made further modifications. Remove the custom ad blocker rule(s) and the page will load as expected.