Ms. Globular is the school teacher of Maze High School and has a dog named Foofie. Pac-man, Spiral, and Cylindria are in her class.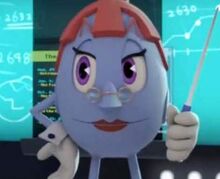 Appearance
Edit
Ms. Globular is a light blue character with red hair, small glasses, red lips, and purple eyes.
Personatily
Edit
She was a student at Maze High School and studied science.
She was voiced by Erin Mathews, who also voiced Pac in the series, she is almost similar to Macy and Robin from Lego Nexo Knights.
An ironic thing is that, in No Pets Allowed Part I, she didn't believe Pac's ghost explanation until she saw the Ghost Gang. But in The Adventure Begins Part I, she explains to the class about ghost, praises Pac in his beliefs, and disagrees with Skeebo saying that ghosts are not real.