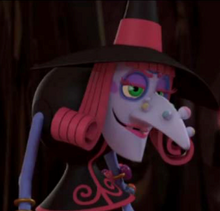 Madame Ghoulasha is the Nether-Witch of the Netherworld to bring out a bad-luck potion to make Pac-Man look like a total klutz until Ghoulasha makes a deal with Betrayus to marry her, she would remove the curse off of Pac-Man. She is voiced by Kathleen Barr.
Madame Ghoulasha appeared in Jinxed, The Shadow of the Were-Pac and Pac's Very Scary Halloween Part II.
She puts a curse on Pac-Man.
She is almost similar to Trixie from My Little Pony: Friendship is Magic. They both have magic powers, evil natures and the same voice actress.
Madame Ghoulasha chased Dr. Buttocks.
She is seen in one of Betrayus' videos in The Spy Who Slimed Me.
Her weakness is water because she would melt like in the 1939 film The Wizard of Oz.
She appeared as a fortune teller to Grinder in the episode The Shadow of the Were-Pac.