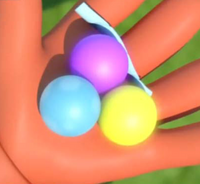 Throughout the series, Pac, along with various other characters, use the Power Berries to transform into different forms.
Pacman forms
Edit
Ice: This form can freeze Ghosts and other hazards.
Fire: This form can burn Ghosts or other materials.
Metal: This form has a magnetic tongue to grab Ghosts and a drill tongue.
Chameleon: This form can turn invisible and has a stretchy tongue to grab Ghosts.
Granite Ball: This form is a gigantic "granite ball", which can crush Ghosts.
Rubber: This form is a bouncy ball which can bounce up and down. As shown in Season 2 Episode 20, Pac can also stay in his regular shape and he can stretch his arms and legs.
Balloon: This form is a balloon filled which releases air to move. 
Spin: This form is a spinning top which can spin to go fast or make enemies dizzy.
Tiny: This form is a tiny version of the user.
Fishing Rod: This form has a fishing rod as a tongue to grab ghosts.
Paczilla: This form is a gigantic version of the user.
Pac Kong: This form is a prehistoric and giant ape like creature based off of King Kong.
Planet: This form is a planet much like the Earth.
Rocket: This form has rockets attached to it's legs which allow it to fly.
Wizard: This form can perform magical spells such as changing itself into a fly.
Arachnid: This form has the same abilities as a spider.
Brainiac: This form makes the user to be really smart.
Fly: This form is a PacWorlder sized fly with the same abilities as a fly.
Digital: This form is a digital form of the user.
Pac's Forms
Edit
Not every Power Berry transforms the user. Most Power Berries give the user special abilities rather than turn the user into a new form.
As revealed in Robo Woes, if Apex or any other villain with such power might drain power from the Power Berries, this could be prevented by having the berry covered in a reflective coating.
In the episode Pac-Mania, the actor playing Pac-Man in the TV Show ate three "Power Berries": One turning him into a tomato, one turning him into a bird, and one turning him into an elderly woman. It could be presumed it's because this is just a TV Show made to make fun of Pac-Man, and as such, these forms do not exist.