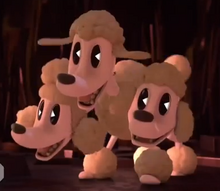 Fluffy is the guard dog with three heads. This pac-monster has appeared in several episodes. He is Betrayus's pet.
Personality
Edit
Fluffy is a Cerberus poodle, he may sound sweet in several episodes. Fluffy is sweet sometimes when he is mad, he'll turn into a demon form.
Sightings
Edit
The Adventure Begin, Part Il
No Pets Allowed...Especially Monsters! Part I
All You Can Eat
Mission Inpacable
The Shadow of the Were-Pac
The Ghost Behind The Throne (seen in flashback)
Honey, I digtized the Pac-Man (seen in demon form)
Pac's Scary Halloween Part I
Pac's Scary Halloween Part II
Santa Pac
Fluffy is based off of Cerberus, the three headed dog from Greek myths.

Fluffy is also based off of a Cerberus dog that had the same name in Harry Potter and the Sorcerer's Stone.
Fluffy is seen in all source filmmaker videos.
Fluffy appears briefly in animation video called dining Drey running chasing Bobbie out of his room.
He can be seen as cameo appearence in animation.
He can be seen as a demon form in source filmmaker video he can be seen briefly chasing talon and keeps barking at night and howling for help.